International interns go full-time at Future Space
February 27th 2023
Two of our long-term members have taken on international students full-time following successful internships.
XR Tech and Ferryx both took on interns as part of our annual programme funded by UWE Bristol to support their innovation and growth.
Ferryx needed someone to help with marketing as they geared up to launch their new product, while XR Tech were looking for someone with technical skills to help develop their computer vision machine learning models.
Want to know what these are? Learn more below…
XR Tech
Asifur Rahman moved to Bristol from Bangladesh at the end of 2021 to study his Master's in Data Science at UWE. As he was approaching the end of the year-long course he applied for an internship with the team at XR Tech.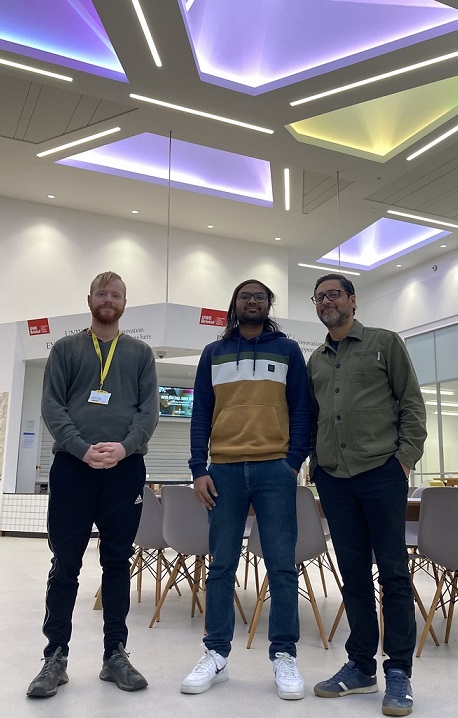 XR Tech: Joe, Asifur & Gurps
"For my undergraduate degree I studied Computer Science, but I focused on machine learning for my thesis and realised I had an interest in studying Data Science at a higher level. Bristol is a great city to live in, so I chose to come here."
"I heard about the internship at XR Tech through one of my friends who had previously done an internship with them and had since been offered full time work. I was recruited to help develop and test their computer vision cameras.
"These are used to detect PPE in working environments where staff should be wearing a hard hat, for example. So, if someone loses their head gear, the MV model can send an SOS alert and rectify the situation. I worked on enhancing the data set for the MV model, and once my internship ended they offered me a full-time position as a Machine Vision Engineer to continue this work."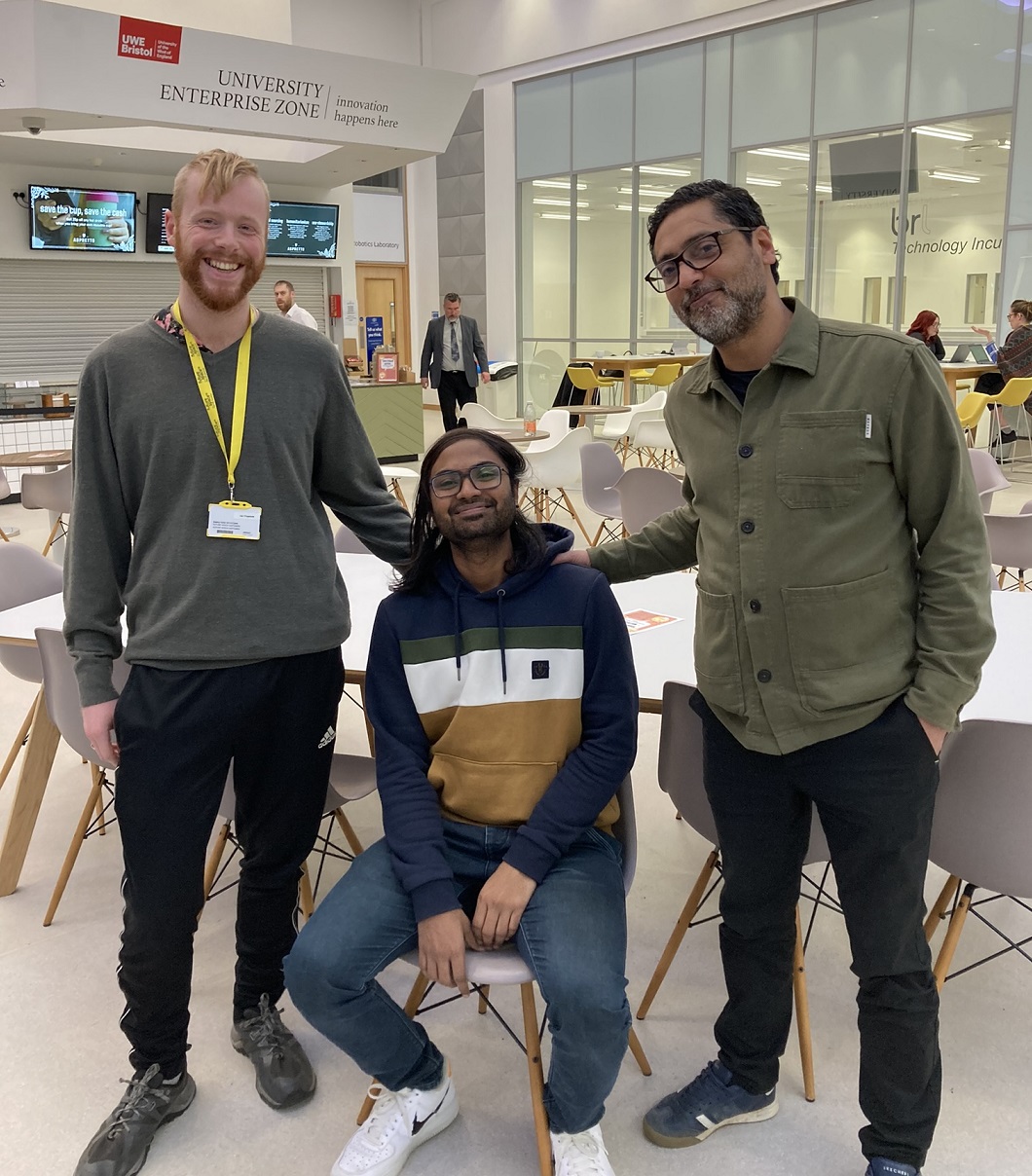 XR Tech digital is a tech development house that builds innovative technologies, specifically integrating AI, IoT and robotics into centralised applications.
"The internship programme at Future Space was of interest to us because we needed specialist resources around data science and computer vision machine learning. In this respect Asifur was the perfect candidate", explains XR Tech Founder Gurps Nijjar.
"Asifur came in, gelled well with the team, and started adding value really quickly. Working with him for three months gave us a really good idea of what his skills are and he got very familiar with the project and became very competent at the work he was doing.
"This is the second intern we've hired full-time over the last year from UWE and the team at Future Space have been instrumental in supporting this journey – and we need them to keep the momentum going for us as we're a small business juggling a lot of plates.
"We've also done a lot of work through them with the Bristol Robotics Laboratory on joint tenders, it's a very supportive culture for startups. Plus we love a good game of table tennis at lunchtime!"
Ferryx
Ferryx is a team of scientists who have been developing a new product, called Ferrocalm, for the treatment and prevention of gut inflammation. As they approached the product launch, they realised that they needed to spread the message and raise awareness of their product.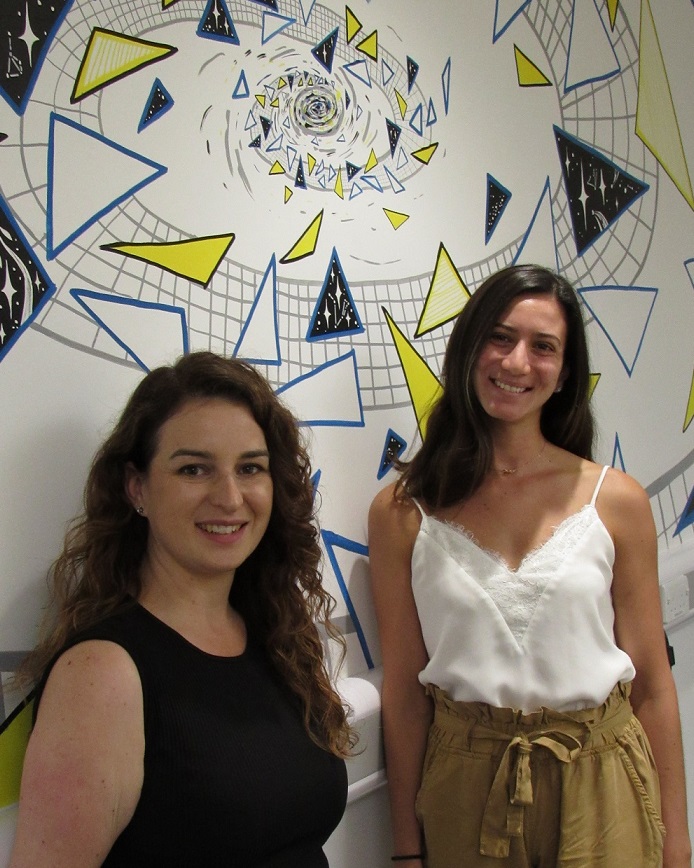 Ferryx: Jenny & Micaela
Jenny Bailey, founder and CEO of Ferryx, explains. "What we were looking for from an internship was someone who understands how social media works and how to communicate and get people excited about Ferrocalm.
"These aren't skills we have in the team. Initially we looked at outsourcing marketing, but we've never done this before. Then the opportunity for an intern came along. It's appealing because it's risk free – you get to give someone a trial to see whether they're a good fit for you and vice versa.
"The Future Space scheme also pays a bit more than other schemes, so you get a good calibre of applicants. We don't have the expertise in the team to guide someone on marketing, so we wanted someone who would be a self-starter, and we were lucky that we found Micaela.
"I knew from Micaela's first day that I wanted to hire her. I asked her to spend the first week researching competitors and their content and she responded – oh yes, I've already done that! I knew we'd found someone special."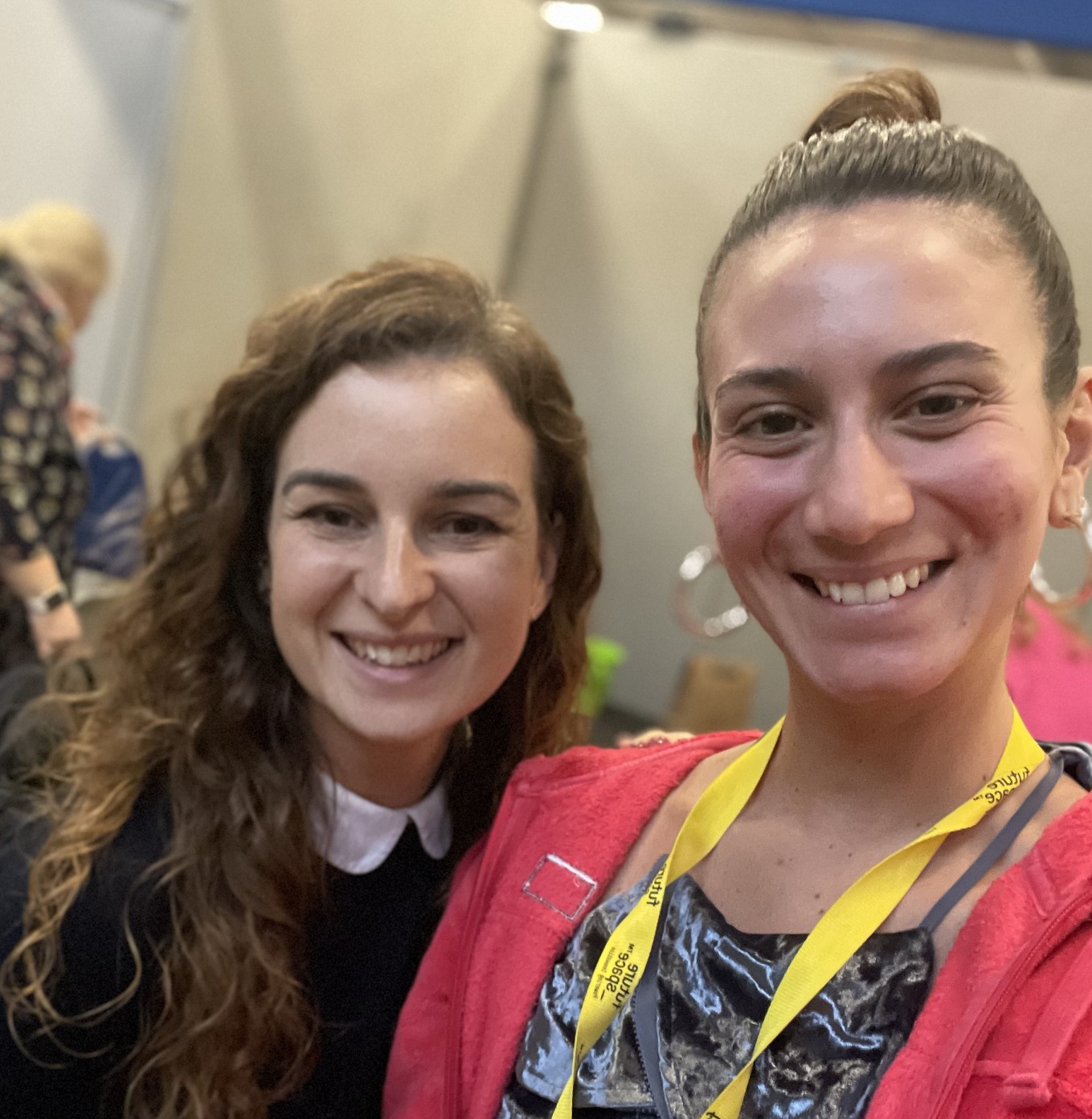 Micaela Valdizan came to the UK from Peru in 2021 to study her Master's Degree in Digital Marketing at UWE Bristol. While she didn't have a background in science, she did have the skills Ferryx needed.
"When I saw the role it jumped out at me because it fit with my studies – a few hours a week for four months – and was focused around social media, which is my passion. When I researched Ferryx I felt my values aligned because they are focused on helping people. The internship has gone well and now I've graduated Jenny has offered me a full-time role with the team.
Micaela studied International Business and Management as an undergraduate degree in Peru and always knew she wanted to travel and study abroad, but she didn't know where.
"I love travelling and new experiences, but to be honest I didn't know Bristol existed before I looked into my Master's degree! When I researched the city I found it was really beautiful and the course was really practical so I chose UWE, and when I learnt about Future Space and the opportunities there and I was so glad I came here – not all universities can offer this.
"I always tell my family and friends that where I work is really inspiring, I really enjoy the community events and you get to meet so many different businesses, I love it here and I'd definitely recommend the opportunity to other students and businesses."
Future Space Internships 2023
Last year we placed 17 interns with our member companies thanks to the Future Space internships scheme, and a further five UWE interns through the university's own schemes. Future Space's Assistant Innovation Manager, Abi Ross, manages the scheme:
"The internships bring a huge amount of value to our companies, and I've loved speaking to the interns about their experiences here, particularly those who are now employed by their host companies.
"Interns working for Future Space companies get to experience the exciting, early stages of a business, gaining a unique insight into what goes into starting and running an organisation.
Abi Ross, Assistant Innovation Manager
"For those companies lucky enough to find a student who gels with their company, the 8 – 16 week internship can act as the perfect springboard into permanent employment. Particularly for the international students, access to internships of this length creates an opportunity for us to nurture and retain the talent we attract from overseas.
"I hope we can continue growing the scheme, supporting our businesses and facilitating more paid, professional experience for UWE students at Future Space."
The Future Space internships for 2023 are about to go live. Speak to our Innovation Team if you would like to find out more: innovation@futurespacebristol.co.uk
More News
November 28th 2023
Future Space wins Tech South West Award
Future Space took home the Supporting the Sector Award at this year's Tech South West Awards in Exeter.
November 21st 2023
A Welcome from New Centre Director Matt Freeman
Hi, everyone! It's such an honour to be joining Future Space and helping to lead the centre and its team going forward. I started in the role only a month or so ago, but even in that short space of time I've been amazed to hear about what our businesses […]
October 17th 2023
Growth for Albotherm as they prepare for innovative commercial pilot
Earlier this year Albotherm announced a £1.6 million investment. Now they're gearing up to pilot their carbon-saving product with commercial clients.